TO LOG IN:   Your username will be  [YourNID]@ucf.edu,   and your password is your current NID password.
If you see the following prompt, please select "Employee User"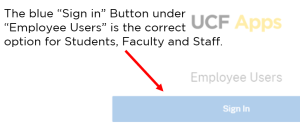 SPSS Licensing Issue - Workaround
If you notice a licensing pop-up for SPSS, choose the "Apply Existing License" option to proceed. For more details, review our related knowledge article.
Knight Drive (K:) Storage Reminder:
Make sure you back up any files you want to keep that are stored within the UCF Apps environment or the K: Drive, as we remove files from UCF servers after every semester.
Q. Who has access to UCF Apps?
All current students, faculty and staff have access to most of the available software applications. See the Generally Available Apps section below for the apps available to everyone.
Q. How do I use UCF Apps?
First, install UCF Apps. You should be able to use the web browser in most cases (Chrome is our recommended web browser), but we do have a desktop client, called Citrix Workspace, that works great on just about any operating system. 
Still having issues?
  Our knowledge base has some great how-to articles.  
Additionally, you can visit the Student Support Desk in Technology Commons, or submit an incident if things were working, but now they are not.
Are you UCF Faculty or Staff and would like to add an app or consult with us on the best ways to use UCF Apps? The 
knowledge base has some great how-to articles on the basics. To consult with us about your use case or add a software application to UCF Apps, submit the UCF Apps request ticket.
7-Zip

Acrobat Reader DC
ArcCatalog
ArcGlobe
ArcMap
ArcScene
Google Chrome
GPower
HLM
IBM SPSS Amos
IBM SPSS Statistics
JMP
Microsoft Access
Microsoft Excel
Microsoft PowerPoint
Microsoft Publisher
Microsoft Word
Microsoft Visio
Microsoft Project
Notepad++
NX
Origin
R
RStudio
SAS
SAS Enterprise Guide
Security Risk Assessment Tool
Simio
TreeSize Free
WarpPLS
RATSData
If you think your course would benefit from having access to any of these apps, have your instructor reach out to UCF IT through the UCF Apps request ticket to see how we can accommodate your needs.
3m Medical Encoder

ANSYS

ArcGIS Pro
Audacity
DNA Fusion
Google Earth Pro
MATLAB
MathCAD
Maxon
Microsoft Project
Microsoft Visio
PTC MathCAD Prime 5000
SAP2000
Simcenter STAR-CCM+
StataIC
TruCode
West Law
WinRATS Std
Wolfram Mathematica